SPECIAL FROM STONEONSTYLE.COM: The proper gentleman understands that seersucker can only be worn from Memorial Day to Labor Day. Here are the basics for those gents dressing to impress on Memorial Day and beyond.
By Roger Stone
What does every stylish gent need when the mercury climbs but the work-day still beckons? Hint, it's a classic, it's comfortable in steamy climes , it's retro and it's making a huge summer comeback. It's that cool summer staple -the seersucker suit. A seersucker suit is one of the most iconic styles dating from the 1920's and is now making a huge comeback.
What sets seersucker apart from other materials? It's the 'coolest' material to wear in hot and humid weather. 'Coolest', as in temperature, and 'coolest' as in hip baby! There is nothing like it. It's easily cleaned, never needs pressing, and no other suit will keep the hot and humid weather off your back.
Even the origin of the word "seersucker" is steeped in exotic legend. "Seersucker" comes from the ancient Persian "shir o shakkar" which translates to "milk and sugar."
The combination of smooth stripes (smooth like milk) and rough stripes (rough as sugar) morphed into "seersucker" when it became popular during the British colonial period in India, as the most desired material for British officers in that notoriously hot colonial posting.
It's this combination of smooth and rough which gives seersucker its trademark "pucker."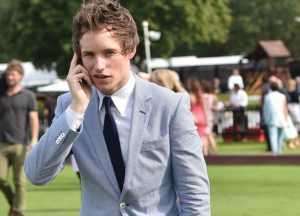 The cooling property of seersucker comes from the puckering, which raises some of the fabric away from the body allowing for less skin contact and more air circulation. For years seersucker was seen primarily as material for uniforms and was widely used as such. However, it made a lasting impact in the summer wardrobe of southern gentlemen starting in the twenty's.
What man of sufficient caliber doesn't recall actor Gregory Peck in his vested seersucker suit in the film "To Kill A Mockingbird?"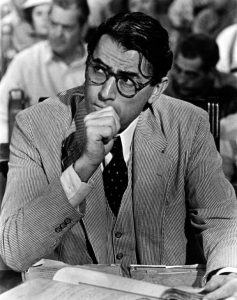 The biggest attraction with wearing seersucker has to be its rumpled look. This is because seersucker has a lack of inherent structure. It doesn't have to be that way. According to Haspel, the original purveyors of the seersucker suit, there are definite rules when contemplating seersucker. Number one is fit. Never wear a seersucker suit straight off the rack. It's going to look shapeless and droopy. If you're going to sport seersucker, whether a jacket, trousers or a full suit, have it fitted. A nice, custom, tailored fit makes all the difference in the world.
Aside from fit, seersucker offers a wide variety of color combinations for every occasion. Traditionally seersucker came in grey and white. With its increase in popularity, seersucker has seen a broader color spectrum such as red and tan, blue and white, navy and black, tan and white, shades of blue, and basic black. Seersucker can now be worn as shorts too. The key here is to wash them so the material loosens up, giving a relaxed look.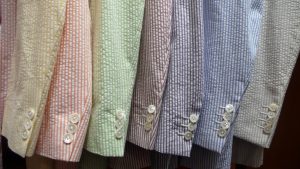 In choosing what kind of shirt to wear under your seersucker jacket, the choices are varied. For a less traditional look, a nice clean fitted t-shirt can look smart yet informal. For a dressier look, a crisp white shirt always goes well with seersucker. Never wear a seersucker tie with a seersucker suit. God, no!
In picking a tie, the rule is something conservative with appropriate color and a texture that's not seersucker. A madras plaid tie or polka-dot can be just the thing. A bow-tie works here if you are Tucker Carlson or George Will… or even if you're not. A colorful pocket-square is de riguer .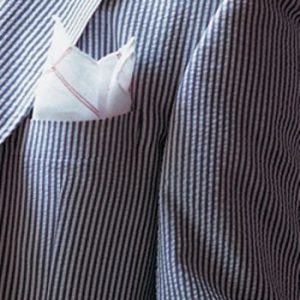 Two-tone "spectator shoes" complete the look. Highly polished penny loafers go as well as brogues or wing-tips. White bucks with red rubber soles are a style classic. Socks are, of course, optional.
A seersucker suit carries with it a certain flair which recalls the nobility and charm of the southern gentleman.
At the same time, wearing seersucker places a man in the company of such icons as Ronald Reagan , Miles Davis, Frank Sinatra, Eddie Remayne, James Coburn and Gregory Peck.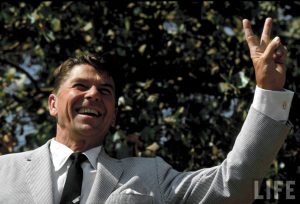 The look is dressy, sharp, cool, comfortable and 'old but new."
For those who have known seersucker, I tip my hat. For those who are new to it, I welcome you to the 'coolness' of seersucker.
Roger Stone is a seasoned political operative, speaker, pundit, and New York Times Bestselling Author featured in the Netflix documentary "Get Me Roger Stone." A veteran of ten national presidential campaigns, he served as a senior campaign aide to three Republican presidents: Nixon, Reagan and, to his regret. Mr. Stone is also a longtime confidante and advisor to President Donald Trump, who is the focus of Stone's new book… The Making of the President 2016: How Donald Trump Orchestrated A Revolution.